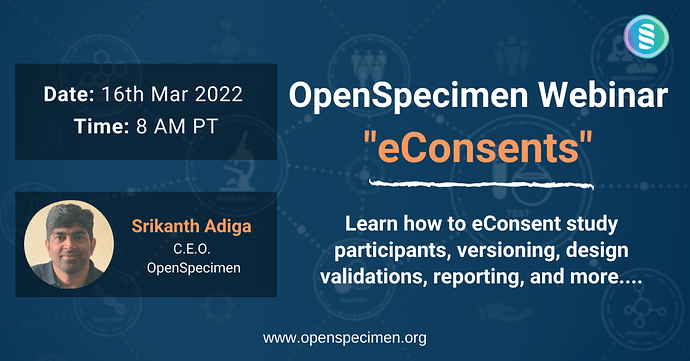 We are happy to bring you our next webinar - "Collecting eConsents from Study Participants".
OpenSpecimen's eConsents module supports collecting consents directly from participants via emails or in the clinic. This is an excellent opportunity to learn how to eConsent study participants, versioning, design validations, reporting, and more…
The eConsents module is now used in three major US universities:
Columbia University Medical Center
Kansas University Medical Center
University of Miami
Date and Time: 16 Mar | 8 AM PT
To register: Click here
Agenda Webinar:
Designing consent forms and versioning
Support for surrogate and ascent forms
Multiple language forms
Send email notifications to patients to fill out consent forms
Validations based on consent responses
Reporting based on consent responses
Using mobile/tablet apps in clinics
Feel free to register even if you are busy or in a different timezone; we will share a recording of the webinar.