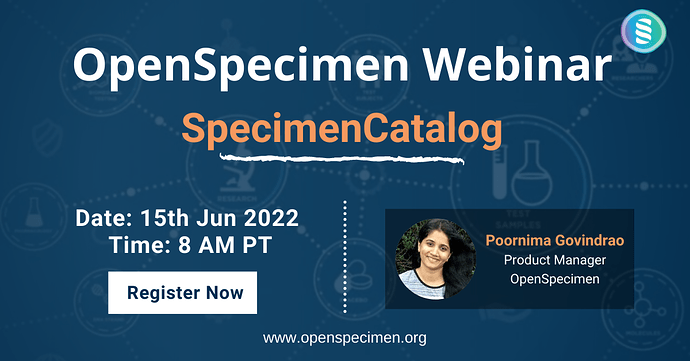 We are happy to bring you our next webinar - "Sharing Biospecimen Data with Researchers Using SpecimenCatalog".
OpenSpecimen's inbuilt SpecimenCatalog module helps biobanks share biospecimen data with researchers and manage requests.
You can create one or more catalogs, design a dashboard, configure request forms, and accept requests from researchers.
Date/Time: 15th June | 8 AM PDT/ 11 AM EDT / 3 PM GMT
To register: Click here.
Webinar Agenda:
Creating catalogs (CP-specific, disease-specific, etc.)
Public vs. private catalogs
Requesting specimens
Processing requests
Configure dashboard
Email notifications
New features in SpecimenCatalog
Click here to read more about the SpecimenCatalog module.
Feel free to register even if you are busy or in a different timezone; we will share a recording of the webinar.