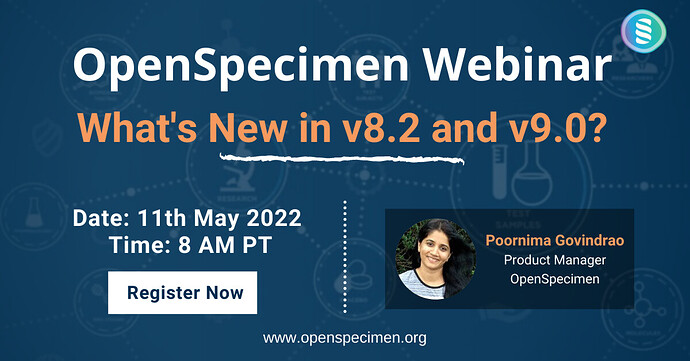 OpenSpecimen v8.2 was released in Jan, and we are getting ready to release v9.0 now.
This webinar will cover all the new features and improvements in these two releases.
You are also welcome to ask any questions based on your current OpenSpecimen usage.
Date and Time: 11 May | 8 AM PT
To register: Click here
Upcoming Features in v9.0:
New feature: Pooled specimens
New feature: Draft & Publish mode for Collection Protocol
New module: Processing Workflows
New module: Database console
Improvements in Specimen centric CPs, Specimen Catalog, Distribution improvements
New feature: Inbuilt backup support
Many bug fixes
What's new in v8.2?
Improvements in Coordinator Workflow, Bulk Operation, Specimen Catalog, REDCap integration
New feature: User Profile Forms
Many bug fixes
Refer to complete Release Notes here.
Please feel free to register even if you are busy or in a different timezone; we will share a recording of the webinar.